It's been a minute since my last post and a large part of that is because I've done a kickstarter, recorded 2 EPs, gone on tour, hired an intern, and been releasing music...so the blog has taken a bit of a back seat.  But it's been a lot of doing and a lot of learning and it's all great stuff that I will be able to share here.  Which brings me to a really important point.  I've said it here and I'll say it again, the music industry is undergoing rapid seismic shifts.  On the one hand, it means for the first time in history, musicians have a ton of opportunities and paths toward building their career in music...opportunities I'm trying to highlight in this blog.  And musicians are no longer reliant on gatekeepers like music labels to give them those opportunities.  On the other hand, now the musicians themselves have to do all of the work that the record labels used to do including but not limited to booking, tour advancing, graphic design, budgeting, press, and on and on, na na na na na...It can be really hard to know where to spend your time, energy, and money.
There are also a lot of people trying to take your money, offering all kinds of promises for what they can do for your career.  It can be tempting.  But don't do it!  Unless you can verify what they're saying is true, and they can guarantee they will help you achieve exactly what you want help achieving, just stay away.
Having said that, there are some amazing resources which really can help, and I would like to share a list of the books, blogs, podcasts and conferences that I have personally used and which I would highly recommend.  This is by no means meant to be a comprehensive list of all the great resources I've ever used, or that exist, but rather ones I've used in the last year or so, and which I believe rise above in terms of their usefulness or their impact on what I do.  
You should know that you don't read a blog and suddenly become a "successful" musician.  That takes focus and work.  But I think these resources make up an excellent course in what's current (and constantly updated) and important to know and do as a musician from any genre in the modern music business.  So without further ado....
Books -
Some other books I've read over the years that left strong impressions but which I haven't read in a while include The E-Myth Revisited by Michael Gerber, The 4-Hour Work Week by Tim Ferris, Book Yourself Solid by Michael Port, Awaken the Giant Within : How to Take Immediate Control of Your Mental, Emotional, Physical and Financial Destiny! by Tony Robins, and The Big Leap: Conquer Your Hidden Fear and Take Life to the Next Level by Gay Hendricks.
Also, make sure you've got some good writing notebooks like these awesome ones from RayGun and a rhyming dictionary and Roget's Thesaurus.  Yes, you can use RhymeZone.com and Thesaurus.com but I prefer the tactile books, especially for when I'm laying on the beach and writing ;)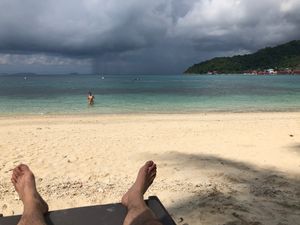 Blogs -
DIY Musician Blog - This long standing blog created by CDBaby has articles on everything you could think of as a professional musician.  Keep in mind CDBaby is a business, so sometimes the articles are pointing you to their products and so they won't include features and services provided by other competing businesses.  Still it's a great resource.
Ari's Take - This is Ari Herstand's blog which was what his book listed above was born out of.  Ari sends out very comprehensive emails on specific topics, on average every couple weeks.  They can be long but they usually either have great new information, updates, or just good reminders on things you may have forgotten.  
Musician Revolution - That's what you're reading right now!  Admittedly this is much more limited in scope right now, but I'm trying to give clear, step by step instructions on things that I do and which I hope will benefit you.  Also if you have a question, just ask in the comments and I just might do my next entry on your topic.
Podcasts -
A great tip given to me by my friend Jacob Spike Kraus is to listen at 1.5X or 2X...this way you can get through more podcasts quicker.  I usually listen to these with my morning coffee and while I'm at the gym.  Also, I'm linking to each of the podcast websites, but all of these podcasts are available on iTunes, Stitcher, Spotify, Google Play, and many other places...simply search for the title.
Some other great music related podcasts I listen to include Switched on Pop, 
Conferences -
Non-Jewish
DIY Musician Con - These are relatively new annual conferences hosted by CD Baby.  The American conference happens each August in rotating cities, and there's a conference held in Valencia, Spain each April.  Many of the authors and podcast hosts mentioned above attend and speak at this conference, as well as representatives from Spotify, YouTube, Pandora, Berklee, and a slew of other big names in the industry.  I highly recommend this conference to anyone who has never been though as of the writing of this blog, I have only attended one conference and can't speak to the benefit of returning in consecutive years.  
Jewish
Songleader Boot Camp - This annual leadership conference created by Rick Recht and Elisa Heiligman-Recht, along with help from yours truly, takes place each February in St. Louis.  It's not only an opportunity to refresh your soul with music, it's a way to seriously up your skill set with practical skills and leadership development.  Rabbis, teachers, educators, and musicians from around the country gather to teach and learn from one another.
Hava Nashira - The original Jewish music institute founded by the likes of Debbie Friedman, Jeff Klepper, and others, this enclave takes place at the end of May each year at Camp OSRUI near Milwaukee, WI.  If you want to experience what several hundred highly skilled Jewish songleaders, musicians, Rabbis, and others can sound like singing together in a beautiful camp setting for 5 days, there's no better place.  
Biennial - Every two years 5,000-10,000 Reform Jews gather to network, socialize, and learn.  As a musician, it was mostly an opportunity to hang with fellow musicians and do a bit of networking with clergy, staff, and lay leaders of congregations who might be interested in hiring you.  In 2017, my friend Peri Smilow helped introduce a lot of new opportunities for musicians and songleaders to share their gift and songlead/perform.  Hopefully that was the first of a trend for future conferences.
I haven't personally been to these conferences but they may be worth investigating on your own:
Non-Jewish
Jewish
I think that's a fairly good list to start with.  Hopefully you've surmised that I try to never stop learning.  Whether it's business strategies, songwriting, performance, instrument practice, staying curious I'm always on the lookout for new ideas that can expand my understanding of the world and my career.  You should do the same.
Now of course there are other resources that I'm surely missing, or which are on my list to read, listen, consume.  So tell me (and everyone else) what those resources are by leaving a comment below.  Thanks and keep rockin' out there!